Our idea of affordable housing isn't just about the price of purchasing property, but the cost of running it over the long-term. 
That's why we're passionate about building off-grid tiny homes on registered trailers, with all the creatures comforts of home. 
Get in touch with Clay and Angie Francisco to explore your options.
The Joy Box, named by her owner, is an environmentally sustainable tiny home on wheels. 
This custom-built beauty has all the creature comforts of home, such as a bathroom, generously-sized kitchen, laundry, reverse cycle air-conditioner, full-sized fridge, wardrobe, and queen bedroom. She is off-grid, fully powered by the sun.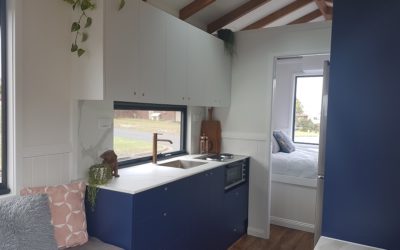 Photo: Courtesy Paul Dear We are proud to finally introduce the Joy Box tiny house on wheels, an off-grid 7.2m x 2.4m home. Watch the video to take a tour.    The Joy Box is an off-grid and eco-friendly tiny home built on a...
read more