Commercial building and maintenance
Clay is a Master Builder with decades of experience, specialising in shopping centres and high-density developments. Claybuild Pty Ltd has a large portfolio of multi-national and local commercial clients who rely on our dedication to getting the job done quickly, without fuss.
Commercial building roofing replacement
Leaking box gutters or roof? Internal water damage? Use someone who has decades of experience in identifying and resolving shopping centre and residential water issues. Claybuild is CM3, Pegasus, and Scentre Group certified, and is also qualified to Working Safely at Heights.
Residential renovations
We bring your ideas to life for any residential build, alteration or addition. Our award-winning projects have been recognised by the Master Builder's Association for the finest level of detail and quality workmanship. Claybuild Pty Ltd has an extensive portfolio of bathrooms, bedrooms, living areas, decks, extensions, and layout alterations.
Design and renovation consultation
Unsure how to go about updating your home? Get advice about potential layout, budget, and style. Use a one-off renovation consultation or benefit from our full design service. Whether you're DIY renovating, using another builder or taking advantage of Claybuild's design and build service, our aim is to bring out your property's potential.
Claybuild Tiny Houses
We are passionate about providing our community with an affordable housing option or investment opportunity by using our talents to build eco-friendly, tiny houses on wheels. Our prototype tiny house will have a big difference to others on the market; it will be light-weight and built so they can be towed legally with the right vehicle.
Design Services
Struggling to choose the right tiles, taps, paint colours, finishes, flooring, and the rest? Let us do it for you. Whether you're DIY renovating, using another builder or benefiting from the Claybuild design and build service, we can save you time and money by helping you to make design decisions and source the right products.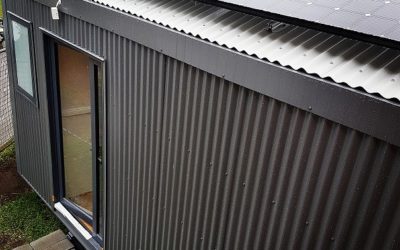 This article goes into detail about how the Joy Box tiny house has all the creature comforts of home, like a bathroom, laundry, air-conditioner and full-sized fridge, but is off-grid, fully powered by the sun.  Solar panels and...
read more