This article is all about the tiny house trailer design and the thought put into making it work for our client.
Freedom and flexibility is what our client dreams of. She wants to be able to pack up her house, take it with her and hit the road to wherever its takes her.
Using it like many do with caravans, our client plans to drive her house around rather stay put.
Named by our client, the Joy Box will be large for its type, but light weight to ensure it's legal and towable by a standard four-wheel drive vehicle.
Tiny house trailer size
The Joy Box tiny house trailer is 7.2 metres long and 2.4 metres wide, not including the draw bar.
In NSW Australia, the maximum width of a trailer is 2.5 metres.
Our trailer width of 2.4 metres allows for the cladding, guttering and even external fixtures such as lights, to fit within the maximum allowable width.
The trailer could be up to about 12 metres long, but while our client wanted a generously sized tiny house, it also needed to be light and easy enough to tow with a standard 4x4 vehicle.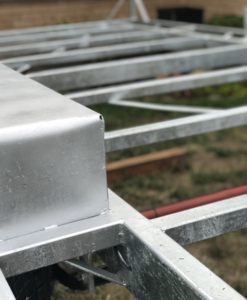 Tiny house trailer design
It has a flat deck with wheel arches, meaning the wheel hubs stick out.
 We opted for this design to minimise the overall height of the deck. While the wheel hubs take up floor space inside, we'll shave off about 20-30cm in overall height, making it oh-so slightly more aerodynamic.
Why we went for a double axle instead of triple
Most tiny houses of this size you see online have a triple axle trailer. Guided by Felk Engineering, our trailer manufacturer, we went for a double axle because it:
 

saves on overall weight, which is a critical design requirement;

is more agile on the road compared to a triple axle; and
is designed to drive on the highway, and the commercial truck wheels should last longer.
Weight capacity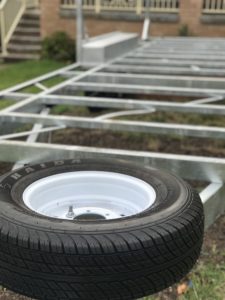 If you Google tiny houses, you'll likely see timber-clad beauties that exude quaintness and charm. They will also likely be from America, which has much more generous weight requirements than Australia.
Timber is extremely heavy. A timber-clad tiny house of this size could weigh anywhere from 4.5 to 8 tonnes.
To tow it legally in NSW, the tiny house will need to weigh no more than 3.5 tonne. This is because most 4x4 vehicles available in Australia have a 3.5 tonne towing capacity.
Anything above that would need to be towed by a truck (heavy vehicle).
For this reason, the GVM rating of the trailer is 3500. Our client wants the freedom to hit the road with her tiny house whenever she pleases, so this was the defining factor in the overall design.
It's now registered and we're already starting to the lay the floor and secure the house framing!
But that's for another instalment! Don't miss out on the next update about the light-weight framing and cladding – sign up to our newsletter.