This article goes into detail about how the Joy Box tiny house has all the creature comforts of home, like a bathroom, laundry, air-conditioner and full-sized fridge, but is off-grid, fully powered by the sun. 
Solar panels and battery system brings tiny home to life
The Joy Box has a 3kW solar power system, including 4x165 AH battery storage (I mistakenly said 4x100amps in the vid!) What does this mean? It means she will not need to plug into the main electricity grid; she is self-sufficient and will draw her energy from the sun.
I can hear you asking – but what about on cloudy days? The Joy Box tiny home has enough battery storage to run for about 4 days. Yes – her owner will need to be conservative with power usage, like avoiding using the air-conditioner all day, to allow her to stay energised.
What happens if there's no sun for more than 4 days? We have ensured that the Joy Box can be plug into the main grid. The grid power doesn't power appliances directly but charges the batteries. (This is my basic understanding.)
The Joy Box includes the following appliances, which will be powered by this system:
Reverse cycle air-conditioner
Full-sized fridge
Small oven and cooktop
Washer/dryer
Waterless toilet fan
Lights
Incidental small appliances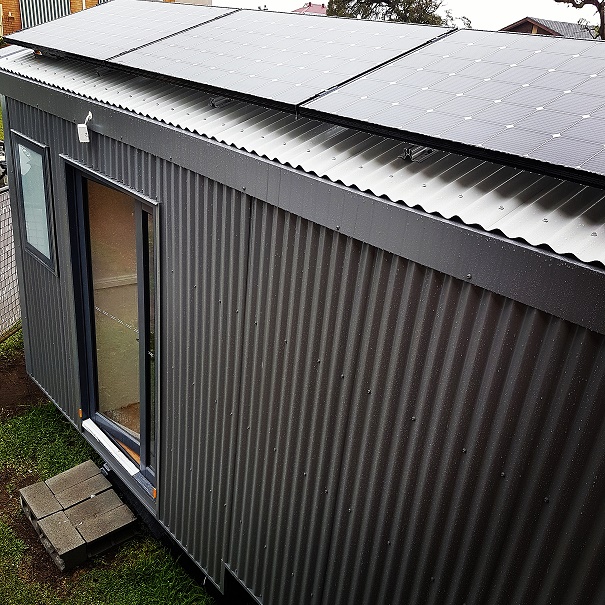 Waterless eco-friendly toilet
The toilet in the Joy Box is a much more environmentally friendly option compared to a 'normal' toilet. Here's how it works:
It doesn't use up precious water.
Liquid (urine) is separated from solids (poop!) by closing a trap door. Depending on how many people use the toilet fulltime, you'd probably only need to empty it every 3-4 weeks.
When you need to do a 'Number-2', open the trap door so it drops into a lined bucket. Separating the liquid from solids helps decomposition and minimises the smell.
Again, I think you would only have to change this once a month or even longer.
You can choose to add wood shavings to the solid waste as the Carbon from this helps to break down the solids and turn into a compost. Doing this will also mean you don't have to empty it as much and will minimise any smell even further.
If you don't use woodchip, you can dispose of the waste which is collected in the biodegradable bag, which lines the bucket.
A low-voltage fan pulls down emissions (smells) from the toilet, drawing it to the outside. This ensures there is little to no smell.
NB: Your poop can be used as compost, but it's not recommended for use on vegetation that you plan on eating.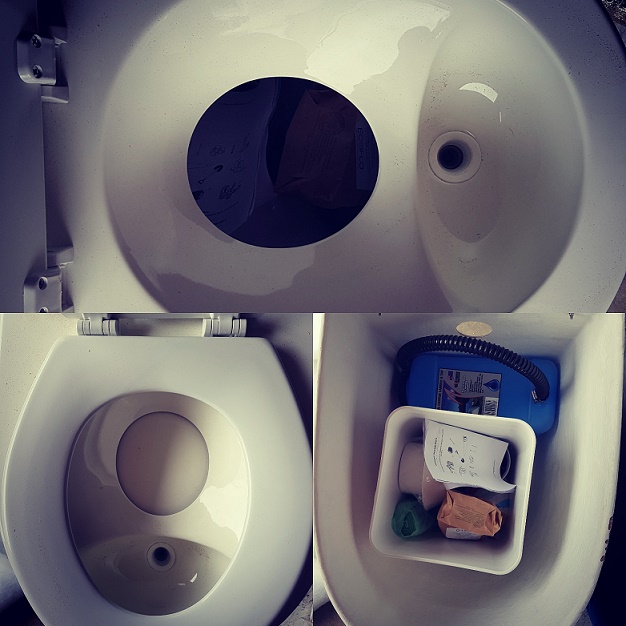 Water
Typically, hot water can take up to 30% of your total energy usage. To minimise drawing on lots of the solar power, we have installed an instantaneous gas hot water heater.
Grey water
It is unhealthy for the environment to dispose of waste water on the ground (not to mention illegal). Water from the shower, washing machine and dirty dishes will be collected into a 110 Litre grey water tank. This will be located under the trailer.
The Joy Box tiny home owner can connect a hose to dispose of the grey water at many, designated locations around the country.
Fresh water supply
The tiny house roof is way too small to collect and provide enough water, for usage. We have installed two 90 Litre fresh water tanks under the trailer, which will be pumped up into the home when the tap is turned on.
Some digital monitors will show when the grey water tank is full and the fresh water tanks need re-filling.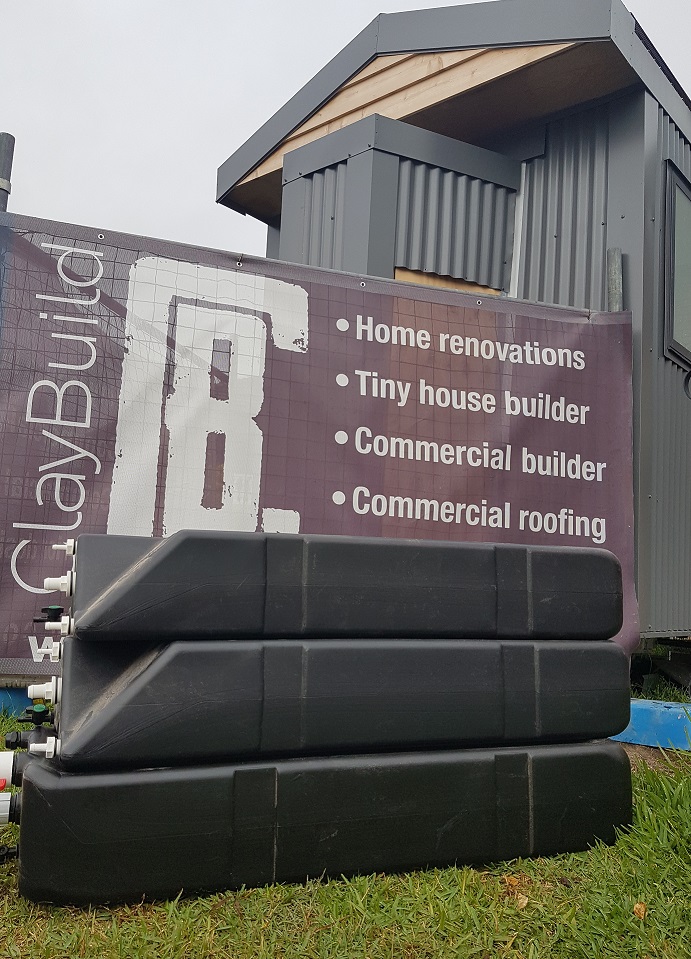 The benefits of creating an off-grid tiny home on wheels
Importantly, an off-grid system is environmentally sustainable, minimising our use of coal and emission of carbon dioxide into the Earth's atmosphere. The compost toilet also reduces your impact on the environment as your – erm – personal waste is returned to the Earth as a nutrient, not a pollutant into our waterways.
Over the long term, it's cost effective. No power bills!
It provides a flexible more freeing lifestyle – you can go live or holiday anywhere you like, because you are not reliant on connecting to the grid.
Including all these systems in the Joy Box tiny home will ensure the owner can live comfortably as she would in any typical home.
What's next? Sign up to our newsletter so you don't miss out on the next blog post about the clever storage solutions, including a sneak peak inside the almost-finished home!